[recommended screen size: 800x600 pixels]
"I shall be telling this with a sigh, Somewhere ages and ages hence:
Two roads diverged in a wood, and I -- I took the one less traveled by,
And that has made all the difference."

-Robert Frost, The Road Not Taken



GERMAN RESEARCH LINKS
Part One
(See LINKTABLES for Part Two)



---It must be here somewhere... Grandpa said so!

Dynamic Equivalent Translations, German>English>German!
./donstrans
Discover the meaning of your ancestor's German first, middle, and last name! Free!


Miscellaneous Archives
Church Archives
Hessen Archives
Paying for Research/German Postage
FAQs/Census
Family Hist

ry Library
International Genealogical Index


German First Names and Surnames


Hochdeutsch! Plattdeutsch!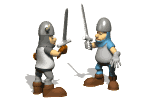 Hochdeutsch! Plattdeutsch!
German Language
USA Genealogy Records

FOKO/GOV/GEDBAS/METASUCHE/HADIS
VORFAHREN SUCHE
German Telephone Directory
(with instructions in English)

Hessen History & Misc. Maps
Volunteer and Professional Researchers

Select Hessen.de for Hessen search engines